Unknown Pleasures Records: Judith Juillerat – Oneironautics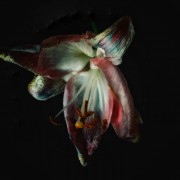 In early 2005 Judith Juillerat opened her music to the public for the first time, when she won a remix contest for Björk's « Army of me » put on by Unicef, leaving 600 other contestants in the dust. Then her first album "Soliloquy" was released on the Berlin-based Shitkatapult label, and produced without a computer. She plays with analog synths & beat boxes, micro, bass, acoustic instruments… After co-writing, co-producing, playing synths and singing on the Black Egg' debut album "Legacy From A Cold World" (aufnahme + wiedergabe) she goes through a period of doubt. In 2016 Judith signs a new album at Lentonia Records called "Nooks & Crannies ".
Today with "Oneironautics" she joins the long list of brillant artists from the label Unknown Pleasures Records. Her new album is a pure masterpiece based on the different phases of sleep, inspired and deep, each sound is in perfect harmony to make you travel to a dreamlike mone which only Judith has the secret. This new record is a pure gem and a a real consecration for this female artist.