Cut Surface: Grotto Terrazza – Stumpfer Gegenstand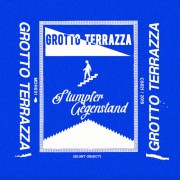 Transforming from a blunt object into a smoldering saint, just another day thought on the never ending collage of life, a pattern that continuously evolves like Grotto Terrazza, the Munich based art/music/life project of Thomas Schamann.
'Stumpfer Gegenstand' (Blunt Object) is his musical debut for Cut Surface and Maple Death, a beautiful intimate album of translucent dark beat poetry, that flickers between rhythmical murder ballads, Neue Deutsche Welle, the early experiments of Palais Schaumburg and the industrial malaise of Cabaret Voltaire; this is art-punk that plays with musique concrete and finds it's pop sensibility rooted in EBM and folk noir.
Schamann started collecting bits and pieces of this and that in order to use them for a cut-up of some sort in 2015. Slowly two distinct and cohesive pieces came to life, his editorial debut, "Trattoria Nihil", a 250 page collection of beat poetry in German & drawings, and this album 'Stumpfer Gegenstand', started roughly in 2017 in Paris, France. Thomas was on tour with his other band, darkwave Berlin project Bleib Modern, with a few days off, and decided to split from his bandmates and embark on an odyssey through Pigalle and other parts of the city; this is where the seeds of the album were firmly planted.