DKA Records: Collin Gorman Weiland – In My Shattered Vase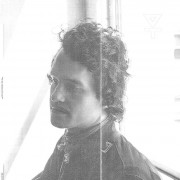 DKA is extremely excited to present the new 12″ EP from Collin Gorman Weiland, "In My Shattered Vase." Having previously released some of our favorite music on labels like Downwards and Jealous God, Weiland's new offering features 3 originals from the Minneapolis native + 2 edits from Germany's Mick Wills and a remix by DKA co-founders Pyramid Club, this is a journey through textured murk, melancholic musings and deranged rhythmic euphoria, distorted drums clash against harsh tones to create an environment both familiar and completely alien, grounded by Collin's deep, dead pan spoken word.
For the b-side, Mick Wills revisits Collin's track from our previously released Strategies Against The Body vol. II LP compilation. an amazing yet utterly un-DJ-friendly track Mick has wrestled with and wrangled into an extended late night dance floor slayer. This is followed by Pyramid Club's reinterpretation of "Ballet Of Pose" from the A-side, stripping it back to it's most percussive elements and propelling it forward with a steadily snowballing momentum.