Detriti Records: Travm – Vltrafeminism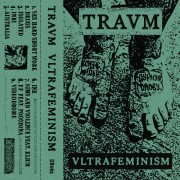 The equality of all people, not causing harm to others, responsibility for our actions both for the individuals and for the whole humanity are life-important for us. Our society is still far from these principles. Every day, the government and citizens repeat the cycle of senseless prejudice and violence. Music for us is an opportunity to somehow react to what is happening, to speak out about how life is and how we want it to change.
So the band name Travm has come from it – something between "ein Traum" and "Травма" (Travma) – injury in Russian. Album is called Vltrafeminism. That's our local band meme. The mention of ultra feminism causes people to feel cognitive dissonance because we still have chauvinistic society here. And it's double weird when you hear it from boys.