Tonn Recordings: MADMOIZEL & Iv/An – Dual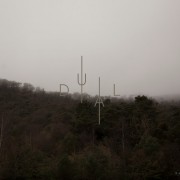 Madmoizel is a French electroclash / synthpop producer / vocalist. Electribes, synth and vocals, Madmoizel plays a music of her own.
After years appearing in adapted context or under various guises (Narrow, Umrijeti za strojem, I/II), Iv/An decided to step out of his own shadows and continue apace under his (sort-of) real name.