Detonic Recordings: Metal Disco – Vade Mecum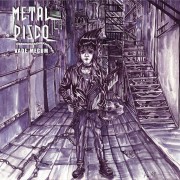 "Vade Mecum" is the second full length from "Analog Technoids" Metal Disco. 10 staunchly analogue tracks, presenting a gritty maze of hard-hitting electronics with a retro-punk aesthetic.
Starting out as a side project for Paradox Obscur main-man Toxic Razor, the Metal Disco hardware obsessed music and inspiration never moves far from a 80s, primitive-tech, post-ebm, Cold beat, proto-punk, synth-orgy.