DKA Records: DKA Tape Programme Vol. II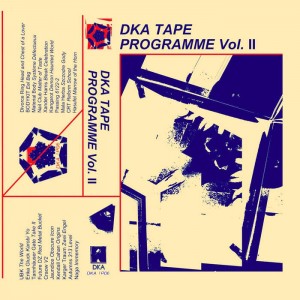 The second compilation in the DKA Tape Programme series features twenty artists making waves in the industrial, goth, acid/house, techno, and minimal synth underground, with artists from all over the world creating death disco dirges, acid bangers, and forlorn post-punk anthems.
Vol. 2 sees the return of DKA stalwarts Tannhäuser Gate, Autumns, Xander Harris, Karger Traum, and Passing, joined by several new (and new to DKA!) acts that have quickly become a part of the always expanding DKA family. Several of these artists have played in Atlanta and blown away the people behind DKA and we wanted to introduce them to you, our faithful listeners! Some of the musicians on this compilation have to date only self-released tapes while others have releases on the extended network of underground techno/industrial labels like Ascetic House, Pop Nihil, New Body, Tram Planet, and more. There is something for everyone looking to jack into the electronic body movement on this monster tape comp that clocks in at over an hour!