SUPERNOVA 1006 – Blackout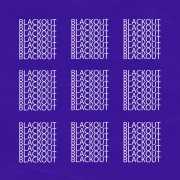 …though beginning tamely enough – "Ladder" steps out with a haunted systolic beat and a shadowy synth fog and manages to keep itself inside the reverbed parameters of a drone-hypnotic dark pop song (the frantic here most assuredly expressed as an undercurrent) – there's not a lot of respite offered thereafter. "Run (All Systems)," launching atop an iconic quote from The Day the Earth Stood Still, is a breathless sci-fi banger that could well scare the masses both on to and off of the dance floor, up-next "Juggernaut," takes its predecessor's cues and ramping them up, goes, if you'll pardon my saying, for the throbbing industrial jugular, while first single "Going Wrong" is a superb example of ecstatic whiplash, emerging from a lurking cloud of eroded radio static into a full-on rhythmic trounce in the blink of a nervous paranoic's eye. Meanwhile, the sparse – if heavily enshrouded – "Amnesia," featuring Austin's Mr. Kitty, boasts an almost epileptic grace like an extended seizure under exquisite control.
Though much of the album utilizes – quite persuasively – fractured effects and sharp snippets of inserted dialogue that tip it outwardly toward the lightly experimental/conceptual (there's little doubt that we're in modern dystopian territory here), it's not an entirely surprising irony that Blackout's highlight cut (if only by a micron) is the fairly straightforward "All Over Again," though even there the shiny-as-chrome sound profile and smoothly hurtling 4/4 tempo only serves to more pointedly underscore the Blade Runnered – and none more timely – mood racing through the center of this record.