Detonic Recordings: Metal Disco – Devil Explicit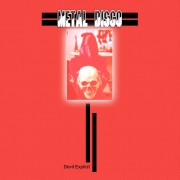 Detonic Recordings are excited to finally announce release DTX13 – the brooding and brutal new EP from Rhodes, Greece based Post-EBM outfit Metal Disco.
The 6 song EP unwinds from the stifling intensity of title Track "Devil explicit" to its claustrophobic conclusion with the epic "Rush", the hook laden single "Silence In Your Eyes" offering only scant release from the pressure of a genre redefining but bruising collection of pitch black Ice-wave.
Metal Disco is the solo project of "Toxic Razor", well known for his work with Cult Darkwave legends Paradox Obscur. Little more than this is known because nothing is disclosed from behind the wall of misinformation and masked anonymity Metal Disco present to the world.