Medical Records: Martial Canterel – Navigations Volume I​-​III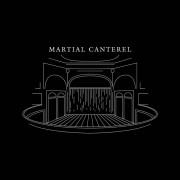 Medical Records proudly presents Volume III of a collection of "Forgotten Tracks, Sketches and Unfinished Work 2002-2004" by Martial Canterel. This release coincides as a standalone with Medical's other releases of Volume II as well as a special 3LP compiling Volumes I-III. Sean McBride has been producing work under the Martial Canterel moniker dating back to 2002 as well as working as half of Xeno And Oaklander. These tracks capture the allure and depth of Sean's early work exploring rhythms and perfectly crafted pop songs using a very early incarnation of limited instrumentation.
Fans of Martial Canterel's early work (think "Austerton" and "Sister Age") will be instantly elated. This is the first time these tracks have been released on vinyl and have been remastered for this release by Martin Bowes at the Cage, UK. Contains special bonus insert with lyrics. Fans of early Martial Canterel as well as other cold wave icons such as A Blaze Color, Snowy Red, and the like will need this collection. Presented on high-quality 180gram classic vinyl.