Werkstatt Recordings: Vandal Moon – Teenage Daydream Conspiracy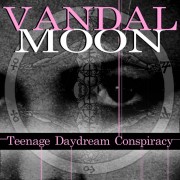 Vandal Moon, inspired by the darker acts of the post-punk & dark wave scene of the early 80's, announce the release date of their fourth album via Werkstatt Recordings. 'Teenage Daydream Conspiracy' is the follow-up to 'The LSD EP', chosen by NeonVice.com as one of the "top albums of 2014". Their new full length LP, available June 19th, features the analog synth stylings of Logan Sky.
Vandal Moon is an American band founded in 2012 by Blake Voss in Santa Cruz, California. As its main singer, songwriter and instrumentalist, Voss is the only official member of the group and remains solely responsible for its direction. Vandal Moon borrows sounds from such acts as The Cure, John Carpenter, The Chameleons, and David Bowie.
Limited Edition Casette / Limited Edition CD / Digital Album