Teenage Menopause: The Horrorist – Here Comes The Whip EP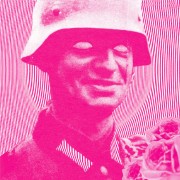 Oliver Chesler better known by his stage name The Horrorist, is an electronic music artist from New York. He is the owner of the Things to Come Records. He has live performances all around the world but a hotspot is Germany. Many remember him as the punk styled kid in D.A. Pennebaker's concert film "101″, featuring Depeche Mode.
Limited edition 7″ inside an astonishing motional effect artwork sleeve.