Seja Records: Mourning Elektra Slangwitch – Messy Riot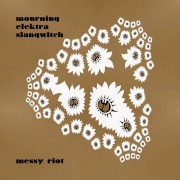 Mourning Elektra Slangwitch is a Dutch artist who has been performing under the name M.E.S.S.Y. since 1985 and is active as an artist creating collages, sculptures, photographs, paintings, videos, and music. Working solo and in bands in different kind of projects, she hopes to put a spell on her audience through what she calls "Messy Vocal Magic".
For decades Mourning Elektra Slangwitch is at the forefront of Dutch/European experimentalism and electronic music.
Listen here and order here.