Medical Records: The Analog Session – Featuring Alexander Robotnick & Ludus Pinsky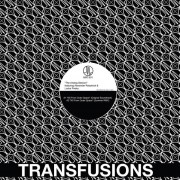 Medical Records presents the first in a series of 12″ singles on the Transfusions sublabel. In Feb 2009, icon Alexander Robotnick (Maurizio Dami) and Ludus Pinsky (Lapo Lombardi) gathered in a room completely engulfed with vintage analog and modular synthesizers (many DIY). What resulted is an absolute brilliant session of pure unadulterated warm techno. Robotnick and Pinsky have deep musical backgrounds in dance music ranging from Italo disco, house, electro-disco, and much more. The project eventually became an album and a live performance.
Featured here are the unique original soundtracks from the videos of these tracks which combined have amassed almost 500,000 views along with a remix of each track featured on this special 12". The original soundtracks to the popular vidoes have never been released on vinyl. Contains over 30 minutes of pure techno perfection with a look towards the future yet performed on the tools from the past. Mastered by Martin Bowes at the Cage Studios, UK.