Unknown Pleasures Records: Alek Drive – Frontière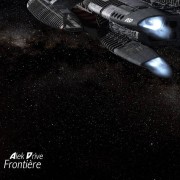 Young 25 years old producer who started producing music in the south of France, he began his career at 21 after understanding that analog machines allowed him to create sounds differently than a contact between two physical objects, which is the case with traditional instruments.
Quickly, Alek bought his first synthesizers and spent days and nights to work on, absorbed by the vibrations of his electronic machines, until extracting the spirit of his own music. Exorcist of his own young asocial devils, and a no doubt vision of an iron and chaotic future, Alek Drive's music fascinate by a powerful strike force and surgical precision.
After a first EP ("Master Of Road" on Police Records and "Endless" with Edgework), the young French producer decided to merge technique and concept, giving a deepest meaning to his creations. He then left the country for a road trip on the other side of the world, initiatory travel from Nullarbord desert gates to the west coast of the large Australian continent.