Unknown Pleasures Records: Zarkoff – Sweet Obsolete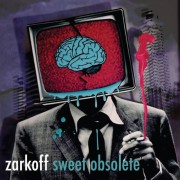 It's called ZARKOFF aka Saša Rajković!
In the last few years this great electro / minimal wave / techno producer from Croatia released some stuff on Dark Entries, Creme Organization, Kraftjerkz, JAM Traxx, Half Releases, Enfant Terrible / Gooiland Elektro etc. with various projects, such as Sumerian Fleet (with Mr Pauli & Alden Tyrell), FFFC, collabs with Popsimonova and Iva Vis.