Seja Records: Venin Carmin – Glam Is Gone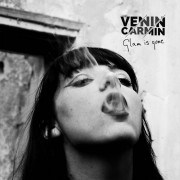 'Glam Is Gone' is the vinyl debut of the French multi-instrumentalist Venin Carmin. She wrote all songs, lyrics and played all instruments by herself. Apparantly for a good reason she recorded the album at 'Death To Majors Studio', for this lady is averse to conventions. Venin Carmin has clear references in the New Wave and Post-punk of the eighties but manages to transfer this just as well with a modern twist. That makes "Glam Is Gone" into a contemporary album.
The lyrics, written from a female perspective, are about relationships, boredom, sex and violence. Sung in a naive kind of way they are occasionally caustic in its observations. Venin Carmin comes with an album full of goodies that changes flavor before you have in mind. It easily can put you on the wrong track. This moreish!