Cititrax: Broken English Club – Scars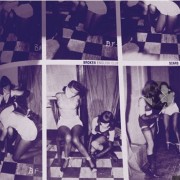 Cititrax is proud to present a 4 song EP by Broken English Club. After the strong reception of the Violence & Divinity split with Silent Servant as well as his solo EP for Jealous God, here Oliver Ho (also known for his Raudive alias) continues in a similar vein, delivering sparse vocals and shards of live instrumentation over heavy, stuttering beats and bleak synths. The tracks on this EP are rich and darkly atmospheric, pulsating loudly through a smog filled dance floor. A subversive spin on dance music, the blank-stared, pin-point-focused electronics and layers of noise betray no/wave and post punk influences, dragging together industrial experimentation and pitch-black techno.
Artwork designed by Veronica Vasicka and sourced from the archives of Silent Servant, the Broken English Scars EP features a one of a kind vinyl pressing of white inside clear – limited to 999 copies and housed in a matte printed sleeve.