Swiss Dark Nights: Hapax – Stream of Consciousness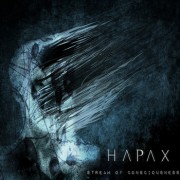 Hapax is a postpunk synth wave project from Naples (Italy) that combines 80's dark-wave sounds with modern experimental /industrial arrangements. The duo was formed in 2014 and consists of Michele Mozzillo (vocals, bass, synth, lyrics) and Diego Cardone (guitar, synth, programming, artwork).
The debut album was released on December 2014 for the label Swiss Dark Nights and is a 11 tracks concept inspired to the narrative device employed by some writers of the early XXth Century, the "Stream of consciousness", which seeks to depict the multitudinous thoughts and feelings which like a flow pass through the mind before they could be logically organized in sentences. A dramatic and exhausting introspection into human soul.