Medical Records: Kline Coma Xero- Self-titled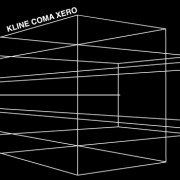 Medical Records presents the debut full length release of Kline Coma Xero. A self-titled LP influenced largely by the sterile and isolated iconography of authors such as Philip K. Dick, William Gibson and JG Ballard (from whence the bands name is derived).
Formed in 2012, Kline Coma Xero is a group whose work embraces elements of early minimal synth wave with distinctively thoughtful lyrics and evocative melodies. Kline Coma Xero's Tony Williams has had his roots planted in various projects in the past, spanning a realm of styles from experimental noise, tape loops and early industrial. Using a writing style that employs the use of hardware sequencers driving analog instruments rather than computers, Kline Coma Xero produces a uniquely oblique interpretation of past-meets-present in modern electronic music. Previously Kline Coma Xero debuted in 2013 with the track "Left Behind" which was included on the Circuit D'Actes 3 – La Forme Lente label compilation which is the opening track on this LP. The 2nd track "Rewind" is amazingly catchy and reminiscent of the best hybrid of analog synth pop overlaid with Front 242 style vocals. Other standout tracks are the 2nd side opener "Mannequins" with it's razor sharp lead synths as well as the dark and brooding "Casualty Ward". Kline Coma Xero will certainly appeal to fans of analog minimal synth, EBM, and the more melodic side of industrial as well as specific acts such as Fad Gadget, Suicide, John Foxx, or Martial Canterel.
Presented on high-quality 180gram heavyweight colored splatter on opaque white vinyl and features a bonus LP insert. Mastered by Martin Bowes at the Cage, UK. Limited Edition.