Medical Records: Roladex- Anthems For The Micro​-Age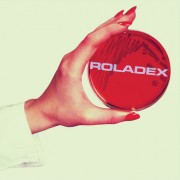 Medical Records presents it's second contemporary artist release with Roladex. Imagine Kraftwerk playing Steven Merritt songs.
Roladex was formed in Texas by Tyler Jacobsen and Elyssa Dianne. Producer/Member, Tyler Jacobsen holds an MFA in Electronic Art and this becomes apparent as they find lyrical and musical inspiration through the films of David Cronenberg and John Carpenter, the works of authors such as J.G Ballard as well as video artists such as Vito Acconci and Nam June Paik. Jacobsen has been on a hiatus from his work as college art professor since the formation of the group. Using an arsenal of analog instruments, Roladex nostalgically borrows ideas from music of the past to carefully craft a unique brand of futuristic-mechanized pop, with an emphasis on songwriting and layered production. Weaving sparse, sequenced arpeggios into fuzzy bass and bubbly melodies to create a bed of sound where they layout a somehow bright melancholia. Part minimal synth-wave, part dream pop, Roladex fits nicely with other non-traditional pop acts such as Ariel Pink as well as Synth contemporaries like Police Des Moeurs and Black Marble. With previous singles on Night-People Records, AMDISCs, and Beko, Medical is proud to present their debut LP.
At times their music cold and moody, at others it is bright and dimly warm. Themes such as nuclear war, cosmology, false memories and technology as the "opiate of the masses" become apparent as the listener plays through the LP. The opening track "Anthem For The Micro-Age" sets the tone with dreamy atmospheric synth textures and interwoven male and female vocals. "Love Surgery" is chock full of pop hooks and synth leads interspersed with angular guitar accents. "Empty Streets" has an almost minimal John Bender bedroom aesthetic. The Last track, "Nuke Em' Out" is an apocalyptic disco track for the end of the world, and the electro-mechanical new wave Cathode Rays (for the the group produced a video) is one of the catches tunes on the record. Fans of early Wire (esp 154), Drinking Electricity, Fad Gadget and even noisy 90s shoegaze are sure to enjoy.
Presented on high-quality 180gram heavyweight electric blue transparent vinyl and features a bonus LP insert with lyrics. All tracks and versions recorded exclusively for this Medical release. Mastered by Martin Bowes at the Cage, UK. Limited Edition.