Mannequin Records: Light House- In Their Image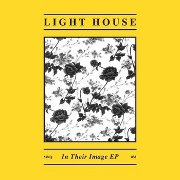 Mannequin Records is simply elated to present the debut 12" EP from Light House.
Light House have been kicking around Portland for two years. The band contains Chris Relyea, an ex member from The Rapture, Dawn Sharp and Brooks Blackhawk from Atriarch. Excellent dark wave with spacious mixes, minimal synths, reverb drenched guitars and eerie malevolent vocals that either pierces your heart or your spinal cord (I haven't decided which as yet, but Dawn Sharp is most excellent).
Originally released in United States by Freee record label in 2012 and recorded on pure analog tape, 'In Their Image' EP illuminates the romantic and elemental nature of Light House's dreamlike sound, a moody, theatrical dirge which brings to mind classic 4AD acts such as Dead Can Dance and This Mortal Coil.
To celebrate this relaunch Light House will be touring America and Europe, hitting the West Coast in mid June to coincide with Warm Leatherette in San Francisco, then onto New York and making their way along the East Coast.
Light House is music that lulls the Etheric body awake, in a hypotetical world where Tropic Of Cancer meets Soft Metals.