HNN- Piece Radiophonique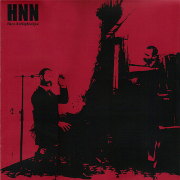 Here's the debut LP of HNN from France. Limited to 500 copies, it was released on October 1st by La Forme Lente.
HNN was Gregg Anthe's solo project, until it was announced Martin Dupont joined to form a duo. The acronym stands for Hsilgne Nekorb Ni, which makes In Broken English if you read it backwards. This lead me to discover Gregg is also the singer of In Broken English, an interesting rock band with a nice touch of electronics.
Face A opens with Life X-Press, the most upbeat and pop song on the album. The rhythm then slows down with Renouveau Ordinaire, an instrumental song featuring a female vocalist humming over nice vocal pads and analog sequences, followed up by Mono, driven by an hooking bass line on top of warm strings and beautiful melodies.
Then face B starts with Iris, an instant classic and my favorite title, followed up with Exhibition, another pure instrumental synthpop tune and A Step Outside, that makes a big wink to Kraftwerk, proudly claiming its synthpop influences by borrowing the air of Computerlove.
Even if Piece Radiophonique, as its title stands, would be pretty enough to play on mainstream radios, it think it is rather dedicated for true synthpop lovers. The organic tone of the synthesizers and the elegant arrangements left me very impressed; these throbbing melodies, delightful sounds and the overall emotions are really speaking to me.
After delivering excellent pop songs, each side is nicely ending with ambient and experimental tracks, and I have a feeling the next release with Martin Dupont will be exploring new musical grounds…
You can still order Piece Monophonique on Discogs.