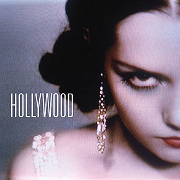 The story of Modern Witch began 6 years ago in Denver, Colorado, when graphic artist Mario Zoots, singer Kristy Fenton and house veteran Kamran Khan started recording experimental music together on an old VHS camera. In the space of a few years, a couple of very limited tape and CD/R releases on labels such as Disaro and Clan Destine Records, and a series of spooky performances both in Europe and on the American continent, the trio has become a true underground reference for creepy, ritualistic dance music, in the muddy but oh so fascinating waters between Witchhouse and Minimal Synth.
Treue um Treue is very proud to present a selection of their best tracks for the first time on vinyl, on two twin-LPs of which this is the first. Drunk on 80′s cold wave, bathed in suburbian occult decadence and haunted by dead celebrities, "Hollywood" is a feast of thaumaturgic synth lines, nonchalant but captivating mpc 1000 – sequences, drugged-out spoken words and ghostly voices. American Angst or Minimal Doom electronics at their best!
Listen and order on TuT/RuR shop.