Possession Records: Soft Riot – Second Lives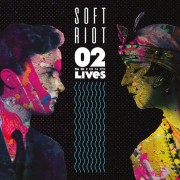 Marking just over ten years since the original No Longer Stranger EP back in early 2011, it's now been a decade since Soft Riot has been in existence. And on that touchstone comes the newest release called Second Lives, a compilation album featuring a collection of eight tracks of previously released tracks from obscure singles on various compilations, re-worked versions of previously released older tracks as well as some unreleased material.
Originally the concept for such a release was to be a more comprehensive archive of unreleased material that has been collecting over the past decade, including demos, odd bits and other ephemera, but with this final version as Second Lives, sees the release fine-tuned into an album of its own right, focusing on key tracks and bringing out their strengths, updating old tracks — often ones that are still played out live — to give them new life and perspective.