Unknown Precept: Accidental Business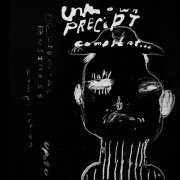 We're proud to present Accidental Business, a long-term project strewn with pitfalls and disillusions nodding to the incongruous events that led to the birth of Unknown Precept. Looking back at what made our trademark for the past 8 years, this new compilation marks a turning point in our discography.
Scanning out the dustiest corners of the label's bizarre roster to offer a complete look at Unknown Precept's soul and vision; it brings together 18 tracks of unreleased material and collaborations recorded by our closest friends. From slow-paced post-punk hitting hard as bricks to short-circuited noise that makes the power supply trip, not to mention our love for the grotesque and self-mockery via humorous wonky synthpunk and bad tempered body music cracking jokes at a ghost audience. This is what you get when a group of people that have no clue what they're doing get together. Into the unknown we sink, but where to find us next?