Teenage Menopause Records: Tsirihaka Harrivel – La Dimension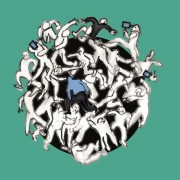 In 2017, Tsirihaka Harrivel, circus artist, multi-instrumentalist jack of all trades, begins writing this album which will become "The Dimension", knowing already that it would form the basis of an upcoming performance. He then draws from this intended music the impetus for a narrative frame: it is in fact a soundtrack in reverse.
Tsirihaka builds the soaring atmosphere of this album around an inspiring 1983 Italian groove box featuring synthetic violins and an intriguing rhythm machine. The elliptical lyrics and the breakthroughs of sound participate in this impossible quest where any exit inevitably seems to elude.
The album was produced with Pierre Desprats (music from the films of Bertrand Mandico) who, with his experience of pop and cinema, has managed to keep the energy to several entries of this false album: association of ideas, tragic effect and illustrative music.