X-IMG: Black Dahlia – Animasochist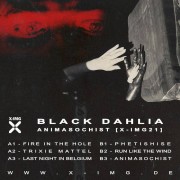 Black Dahlia is a Sydney based electronic music project fusing elements of new beat, EBM & industrial. Along with live and DJ performances in her native Sydney she has also released on labels such as Up North Records (Au), Deep Scan (Au), Insane Industry (Italy), Idlestates (Scotland), and soon to be Motorik Records (Au) as well as this first release on Berlin based X-IMG.
Her upcoming EP "Animasochist" on X-IMG is an explosion of sex, fetishism, and empowerment; samples from vintage sexploitation and pornographic films, interviews about fetishism, and 80s cinema milieu paired with the sounds of New Beat and EBM, which has become Black Dahlia's signature sound. Digital release February 5th with tapes to ship shortly after.