X-IMG: Dystopia in Action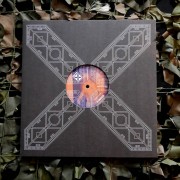 The first X-IMG vinyl is the result of over a year's worth of planning culminating in a tightly curated 6 track compilation. "Dystopia in Action" is the 12" successor to the previous & internationally focused "Self-Aware" cassette compilation series, featuring artists who have been part of the label's slow yet steady cult like spread over the last 5 years. Also included on the compilation are more established artists previously unreleased by the label such as Qual & Kris Baha.
The 12" v/a serves as a laser guided & bludgeoning sampler of fresh underground acts operating within the wider scope of club oriented contemporary dark electronic music. Artists from Colombia, Greece, Denmark, Canada, France & Germany are represented here.