Third Coming Records: DSM-V – Into Nothing​/​Function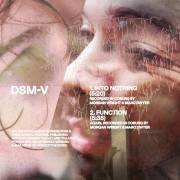 DSM-V is a project based between Melbourne and Sydney, consisting of Marc Dwyer (Buzz Kull) and Morgan Wright (Burning Rose Records, Pelvis Records). After sharing the stage with their respective acts, the pair started to collaborate and record what would become DSM-V.
This first release from DSM-V traverses the usual EBM / Nu Beat tropes by including elements of hard dance and post-punk. Sounds you can blast on a club soundsystem or on speakers at home.
The band derives it's name from the Diagnostic Statics Manual Revision number 5.