Dark Entries Record: Borusiade – Fortunate Isolation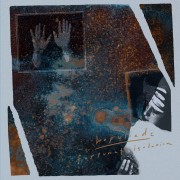 We are proud to release 'Fortunate Isolation' the sophomore album from Borusiade. Born and raised in Bucharest, Romania, Borusiade aka Miruna Boruzescu started DJ-ing in 2002 as one of the very few female DJs in the city's emerging alternative clubbing scene. Influenced by a classical musical education, a bachelor in film direction and fascinated by raw electronic sounds, Borusiade first combined these universes in the construction of her DJ sets and starting 2005 also in her music production. A sound of her own has slowly crystallized, often dark with poignant bass lines, obsessive themes and by all means melodic. She has released EPs on labels like Pinkman, Unterton, Cititrax, Correspondant and Cómeme, who released her debut album 'A Body' in 2018.
'Fortunate Isolation' is perhaps Borusiade's most personal release to date. Eight songs that capture a bystander witnessing the world as it undergoes drastic changes. We have disconnected ourselves from ecology, humanity, preservation, care for what surrounds us, for what is still alive. Borusiade adds, "| know that this place, our home has went through so many other extinctions, but | believe things will find their own way on this planet only once we are gone. Entropy creates a time-line but also a transformation – a new beginning." The album's sound is gloomy and powerful mixing sonic film sequences, rhythmic excursions and soothing yet obsessive vocals that touch one's deepest senses. Lyrically the songs tackle themes of forgotten memories, spirituality, mortality, and destruction. All songs have been mastered by George Horn at Fantasy Studios in Berkeley.