Third Coming Records: Lunacy – Age Of Truth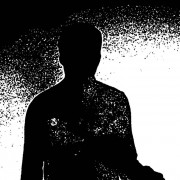 Pennsylvania's dark shadow figure, Lunacy, has been releasing music in small batches since 2016. After 4 EP's and a compilation LP, the time for a debut album has come, the "Age of Truth" is upon us.
With such a broad span of music in such a short amount of time, Lunacy has been working on crafting a sound that people can identify with – equal parts lush noise and undertones of melody. Blurring the lines in between genres, exploring the realms of noise music with a reminiscent shoegaze feel to it and a psychedelic effect on the listener.
The ongoing theme in "Age of Truth" is coming to terms with the aging of mankind and the damage that the human race is responsible for. The Ripple is an effect or idea that one seemingly small factor that is wrong, or one small incorrect decision can have an effect that is both long-lasting and far-reaching. It is hard to take a step back and look to the future in such a fast-paced and instantaneous world, but even with such foresight and accountability now, it may be too late to undo what has been set into motion.
Listeners have expressed having a religious experience, out of body, or psychedelic experiences while listening to the music or seeing Lunacy perform live. Lunacy seems to step outside of just being an art project and stands as a symbol for what's to come of humanity. The "Age Of Truth" is the signifier that you can only hide behind something for so long before it eventually defines you.