Distag Records: Poupard – Nous Avons Joué Tous Les Deux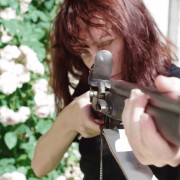 The toddler Poupard is back in an unrestrained and shameless fashion. After the mental disorder of "Vésanie", Poupard takes us into the freezing farandole of a Cinderella dancing in the middle of the mire.
"We both played" will leave beautiful traces of acid discharge on the bib of your boredom …
The scandalous album is now available from Distag Records in cassette format. The pretty fluorescent toy in its flowery case is limited to 40 copies.