Detonic Recordings: Distant Stars – Robots (Do It Better)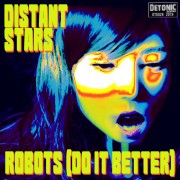 The Franco/Australian 2 piece (named after Ultravox lyrics), deliver 5 tracks of warped pop that spill their minimal/dark/cold waves over the edge of the infinity pool. The Screen-bending video for the lead track is available now too.
The title track is the final release on Detonic Recordings "Minimum Viable Product" singles series that is featured on the vinyl compilation LP.
"cerveau facultatif
mémoire en périphérique
disques durs externes
perd pas ta plaque à induction magique
robots do it better
my computer does it better
no need for you anymore
outdated format"