Detonic Recordings: Embedded Figures – St. Kilda / Inferno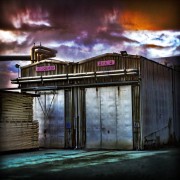 Dance driven future pop that perhaps belongs in a Berlin nightclub circa 2040, Embedded Figures has paved a venomous, dark disco path in the NZ electronic underground before relocating to Melbourne in 2017.
"Minimum Viable Product" (MVP) is an incremental Compilation built over the year by Detonic Recordings. Each Month an on-line single is published with an "A" and "B" side from each of the international artists participating in the project. St. Kilda is featured on the forthcoming LP.