Peripheral Minimal: MITRA MITRA – The Flood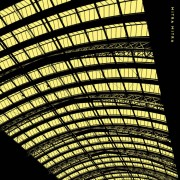 MITRA MITRA was formed in Vienna in late 2014 by Violet Candide and Mahk Rumbae. Originally from New Zealand, Violet Candide is a founding member of the Crazy Hospital DJ collective, and one of the organisers of the legendary Future Echo club night in Vienna, and is one half of Anesthetic Hairpins.
British musician Mahk Rumbae is known for his work as a member of the industrial/experimental project Konstruktivists, Oppenheimer MkII (with Andy Oppenheimer of Oppenheimer Analysis) and his solo techno project Codex Empire.
After working together on one of Violet's solo songs, Heat, the pair decided to continue working together as mitra mitra, with the aim of writing electronic songs not tied to any particular influence or style.
MITRA MITRA have so far released a limited 7" single on Polytechnic Youth and a self-titled debut album on their own label Micromort Music – both of which sold out almost immediately.
For their new EP, released in conjunction with Peripheral Minimal, they present four new songs, including live favourites The Flood and One Universe, as well as Snakes and Phantom Flats. Rounding off the 6 track EP are two special remixes from LowSea, who remix Snakes, and IV/AN who remixes Blender (from the debut LP).