Infravox Records: Neue Strassen – Modern Zeiten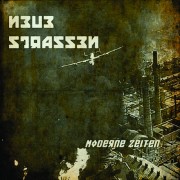 Werner Karloff is an artist located in México city , his musical style is based on music from artists like Stratis , Andy arroganti ,circuit 7 etc… also some artistic influences such as Futurism, Constructivism and German Expressionism.
Neue strassen is a band formed by Dan Shamble (guitar) and Werner karloff (synthetizer , voice). His musical style is influenced by NDW scene and the minimal synth scene in the mid-80s in general. The band name was taken from the song Neue Strassen of Metropackt.