Oraculo Records: Synths Versus Me – Sex/​Body​/Touch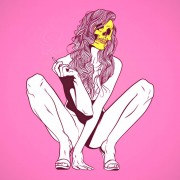 Synths Versus Me is Nico Cabañas and Vanessa Asbert, known as founders of the vinyl spanish label Oráculo Records. The band project started on late 2014 influenced by darkwave sounds produced with synthesizers but going through many different substyles as minimal synth, ebm, synthpop or italo-disco. Several releases/appearances came during 2015 and 2016, not only for their home base label Oráculo Records but as well for Mecanica Records (Poland), Cold Beats Records (Spain) and Seja Records (Netherlands).
SEX / BODY / TOUCH is the third album of Synths Versus Me, following AUFERSTEHUNG and TORMENTO.