Peripheral Minimal: Doric – Sleep Of Reason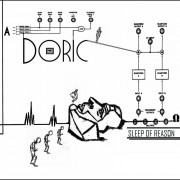 Peripheral Minimal is welcoming Doric to their quarters.
Doric is the moniker of the purist, Stathis Leontiadis (Human Puppets, Exetix, Plexiglas). Being involved in various avant garde/new wave music projects since 1996, intrigued by the 'all' analogue mentality of the late '70s – early '80s music field, he is passionately committed to vintage synths and machines, creating a very distinctive and specific style and considered by many as a "specialist".
On this release,the main subject of the record is creative interplay. The first side (the "Asleep"side), includes songs, written by the artist alone, using sleep as a metaphor of loneliness and seclusion from the oppressive, everyday society that smothers anything unique under the struggle of daily routine. However, on the second side, Doric mutes his skeptic, internal monologue for a bit and collaborates with two very talented and like-minded artists, Pascal and Valisia Odell. Pascal (Foucault, Noisetoy, Ludmilla) is an ingenius multi-instrumentalist and an old friend of Doric and Valisia Odell (Phoenix Catscratch, Strawberry Pills, Father Breath) is one of the most charismatic voices in Greece, with a very distinctive and enchanting vocal hue.This friendship results to the second side (the "Awaken" side), a critical view of what our society translates into artistic and life success in general. A simplified formula that often leads to bury our most creditable truths, in order to become a pattern, easily readable and understandable by the masses.The overall essence of this record however concludes to a rather optimistic dream of a utopian reality,where everyone can create unobscured. The value of each effort can only be appreciated through time.
Limited to 300, black copies with the distinctive "Doric" handmade artwork,a homage to the D.I.Y. Ethos, an infusion from the past but a promise of a future.