Peripheral Minimal: Paradox Obscur – Anacrusis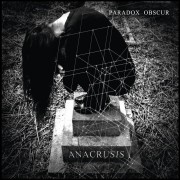 Peripheral Minimal is proud to announce the forthcoming, Paradox Obscur album. 'Anacrusis' – now available for pre-order. This is their second album and their first on a full-length LP.
'Anacrusis' is a massive dark monument full of analog tendencies to conquer the dancefloor… an album of complex Coldwave and Minimal Synth. Rapidly becoming a cult act, this album will surely become a classic of it's genre, and will hopefully please new and current fans of the band. Another milestone for Rhodes' finest.
Paradox Obscur use only hardware synthesizers and everything is performed and recorded in real time without the use of software.