Chondritic Sound: Oil Thief – Obsolescence & Monality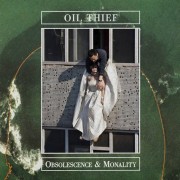 Oil Thief is anti-stasis ambient industrial built for the tropics, climes both inner and outer, relative to local humidity. Oil Thief mingles with change, colonization, union, dis-union and abstract formulae through analogue and digital synthesis in an attempt to arrange formal relations between the political, cosmic and personal. Oil Thief is Los Angeles-based, from Centennial Apt., by the palms on the hill. Kind of near Chinatown. Oil Thief is Lee Landey.
Oil Thief & Hive Mind are set to tour Europe together in October, 2015.