Beläten: Distel – Nord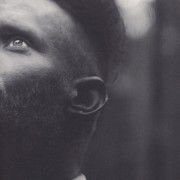 The donut has its toroidal shape for a reason. It's a slippery fucker, and the hole is there so you can hold on to it during preparation and indulgence. The Dutch version of the donut is called oliebol – literally, ball of oil – and for some probably cunningly commercial reason it lacks the hole. It's just a slippery sphere. Irresistible, but unmanageable. Another Dutch treat is Distel. Although irresistible, the music they make is nothing like an oliebol. The sounds they sculpt are, invariably, perfectly distinct and tangible to such an extent that the first time you hear them, they sound oddly familiar. Highly unlikely, since they are all prepared according to a secret recipie and did not exist in the material world before Distel coerced their modular and digital devices to produce them. Distel's got the definition and clarity of Kraftwerk, coupled with a vividly imaginative repertoire that surpasses the German stiffening lumbar foursome by leaps.
You might have heard people liken Distel to bands such as Coil or the Knife. With the release of the new 7″ EP nord, however, it becomes strikingly apparent that Distel has a unique voice, sonic vernacular and style of their own. When this gets out, read my oily lips, people will start likening stuff to Distel instead of the other way round.
This single is a sure-fire musical milestone. Hear it for the first time and realize, the reason it sounds so familiar and obvious is not because you have ever heard anything like it before. Rather it is because, in the future (readily present to the sentient), you will have listened to it thousands of times already.