Peripheral Minimal: Retrospettiva Vol​.​2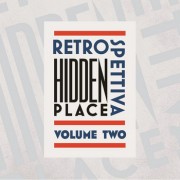 Following on from, 'Retrospettiva: 2004 -2014′, Italian act Hidden Place re-imagine and rework 9 tracks from their previous four albums, and includes an unreleased track from 2008 and a brand new recording entitled, 'Alla Mostra Dei Costruttivisti', highlighting a change in direction, one that encompasses a more angular post-punk sound, whilst still retaining their trademark icy synth refrains.
Hidden Place remain steadfastly anti-genre, refusing to give in to trends, which makes them stand-out in a crowd of an oft diluted 'scene'. Although their influences can be heard, ranging from early O.M.D. to Clan Of Xymox (amongst other 4AD sounds), through to other Italian darkwave acts such as Die Form and The Frozen Autumn, they continue to defy categorisation or jumping on any kind of cliched 'Bandwagon'.
Released on CD in an edition of 200.