aufnahme+wiedergabe: The Devil & The Universe- Haunted Summer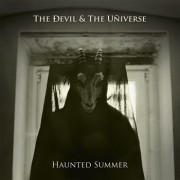 Two musician friends, one goal–Ashley Dayour ("Whispers in the Shadow") , David Pfister ("Black Manna") and Stefan Elsbacher set out to create music from magical systems. They set out to give up their musical creativity and allow the legitimacy of magic and religious mechanisms form musical rules. The process and its system dictated and created not just phonetic anarchy but also examples of sound perfection.
LP+CD limited edition of 300 hand numbered copies, white vinyl, gatefold. The CD includes 4 additional bonus tracks.