Rectangle Astral: TZii- Black Monolith Space Quest- Original Motion Picture Soundtrack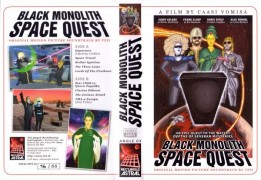 Brussels-based multi-talent TZII has been spreading his magickal frequencies all over the world since 1996, both as a composer for dance companies, live performances and movie soundtracks, and of course as a member of SOLAR SKELETONS and DUFLAN DUFLAN. After his recent appearance on the Recuerdos del Futuro compilation, he is back on RECTANGLE ASTRAL with the original soundtrack of Caasi Vomisa's soon-to-be-cult underground sci-fi flick "Black Monolith Space Quest". A 40 minutes trip through tense black-hole synth throbs, spooky spacy analogue drones from beyond the final frontier and fat sci-fi disco beats. For fans of UMBERTO and XANDER HARRIS a must!
Collector edition in VHS-style plastic box, including film poster and 4 postcard stills.
Listen here and order here.