Desire Records: A G E N D E R- Fixations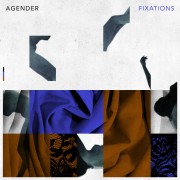 A G E N D E R started out as a solo, lo-fi punk excursion for Romy Hoffman (Macromantics, Romy),  and has since morphed into an all girl 3 piece, known for their intense, fast, tight knit punk shows. A G E N D E R play a unique blend of schitzo synthy paranoid punk. The first record "Self (en)titled" was entirely written, recorded, played and mixed by Romy Hoffman, with additional mixing and mastering by Mikey Young (Eddy Current Suppression Ring, Total Control). A G E N D E R's sophomore album 'FIXATIONS' was recorded onto 2″ tape, at Head Gap studio's in Melbourne, Australia, by Casey Rice (Liz Phair, Red Red Meat, The Dirty Three). It was co-produced by Rice and Hoffman. The songs on this record are fixations on, and fetishes with femininity, and explore the desperate/ disparate nature of queerness, sexuality and obsessive, dysmorphic desire. SIDE A of the record, is a synth heavy post punk affair, while SIDE B is a raw onslaught of classic punk brashness. Some of the songs on this side were recorded in one take.
'FIXATIONS' is a spillage of sexual secrets and the purging of perversions. It's being released by DESIRE Records on June 9th, 2014.
Listen here and order here.