Desire Records: AV- Mort a Vegas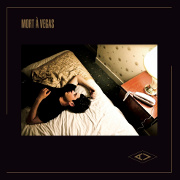 « Mort à Vegas » (« Death in Vegas » in French…) is the new 12'' E.P. by Adrien Viot aka AV, one of the finest protagonist on the new 'frenchy but chic' electronic pop scene. 
AV sings the nightlife, paid sex, alcohol over-consumption, desire under the neon lights, dark side of the american dream, driving a black Cadillac drunk to death…
This 12'' EP contains a dreamlike remix of « Mort à Vegas » by DEATH IN VEGAS (as the track was probably written with him in mind!) but also a cover of French singer Dominique A, known in France for being the one who launched the « new French scene » that drove the renewal of the French Pop.
AV has still this elegant crooner voice that slowly caresses you before driving you on the dancefloor, so let his deep voice and those melodic synths & guitars seduce you.
500 copies – black vinyl – black inner-sleeve – download coupon.