Radio Cosmos: Synth Dimension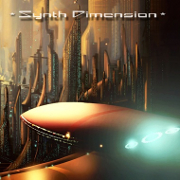 Robert Maschke produced cover art that should give you a hint of what to expect from this 11 tracks double LP compilation, namely star gazing italo thick on the synthesis and notions of space travel and futurism. Across the 4 sides, 'Synth Dimension' essentially grants a quartet of highly regarded synth explorers 12″s to show their wares with Keen K, Kid Machine, Astro Chicken founder Hyboid and Infinity Night all involved.
2 LP Limited edition of 220 copies.