Kernkrach: Les Invalides- Au Revoir 1978-1981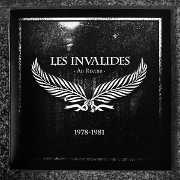 In late 1978 three young parisian students, crossed their way and passion regarding electronic music and analogue synthesizers. They formed a band, which popped up a few years ago named and now already known as LES INVALIDES. Because of health restrictions of one of the major members just only a few tracks has been recorded during their 3 year musical periode. After the death of Albert in 1981 the band dissolved and their musical content lost. The mini-LP "Au Revoir 1978-1981″ contains original versions and unreleased material, rescued and mastered from the original tapes.
KERNKRACH Records managed together in collaboration with Musique Dilettantique this project in memoriam of the members, which never reached their musical attention during their band-lifetime. Limited Edition of 300 records 180gr. (100 on white vinyl / 200 on black) packed in a strong grave cover….R.I.P.
Listen here and order here.