Fabrika Records: M!R!M- Heaven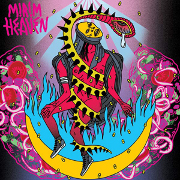 M!R!M begun as a duet in 2011 and created a huge buzz around their name instantly. Today M!R!M is a 23 year old boy, named Lacopo Bertelli. His music was generously tagged as "post punk", however the layers of it make any categorization, a difficult matter. Bertelli, created "Heaven" in his bedroom, trapped inside four walls of loneliness and fear of what the future may bring. Haunted by the Jesus and Mary Chains' dirty guitar sounds, the New M!R!M keeps the powerful, dynamics of their older work intact, but upgrades it, adding the most essential ingredient in creating good music: The Passion. "Heaven" is literally Bertelli's personal hell, and all his songs seem to feed on his subconscious, creating a doomed, vulgar, acid world with whispers that become screams and guitar effects blend with inner voices and synths.
You will be surprised many times, listening to "Heaven". You might find traces of SUICIDE's frenzy, WIRE's straight forwardness and DNA's nihilism.You might as well be surprised by the noir wave duet with Nathalie Bruno (from the promising band, PHOSPHOR), one of the highlights of the LP. M!R!M's "Heaven" is definitely worth the wait of those who already new the band and a great introduction to all of those who search for a dirty, violently personal sound. The Cover is made by contemporary artist, Zigendemonic.
The LP will be released in 500,hand numbered, limited copies.
Listen here and order here.